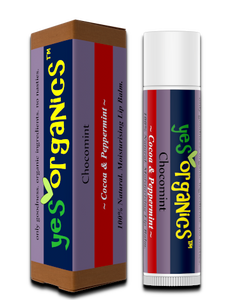 Chocomint | Cocoa & Peppermint Lip Balm
Regular price
$12.00
$0.00
Hemp, Cocoa & Peppermint Lip Balm
It can be Christmas everyday with this combination of organic unrefined cocoa butter and peppermint essential oil. Let's clink those glasses and bliss out to Christmassy feelings of joy and festivity!
Exactly the same formula as our internationally award-winning Cocoa & Hempseed Lip Balm and with the added freshness and benefit of organic peppermint oil making this lip balm uber delicious. A must for all chocomint lovers!
This delicious lip balm is full of goodness, packed with antioxidants, omega fatty acids, anti-ageing, moisturising and rejuvenating oils and butters.
Cocoa Butter does more than just hydrate the skin - it actually helps heal it from the inside out too and is a great source of natural antioxidants.
Also featuring hempseed oil, calendula oil, aloe butter, jojoba oil and shea butter this lip balm is packed with moisturising & healing ingredients for happy lips.
Hempseed oil regenerates and energizes the skin's protective layer.  It has a similar composition to skin lipids which makes it an excellent natural emollient and moisturiser.
Shea butter is considered a super food for the skin, it is healing, anti-ageing and is rich in plant antioxidants such as vitamins A & E.  
Jojoba oil is an excellent moisturiser and is fully absorbed into the skin while creating a protective barrier that locks moisture in thereby helping the skin regenerate and normalise.
Calendula oil nourishes and moisturises dry and chapped lips. It also contains carotenoids which helps keep your skin looking youthful.
Aloe butter is rich in antioxidants, vitamins A, C, E, B, choline, B12 & folic acid. It stimulates cell renewal thereby rejuvenating and healing the skin. Also rich in lignin, it helps enhance the penetrative effects of other ingredients into the skin. This means all the goodness in our lip balms can be easily absorbed by your lips to help heal and rejuvenate them.
Ingredients
onz bees wax, ococoa butter, oshea butter, ocjojoba oil, ochempseed oil, aloe vera butter, ocsweet almond oil, ocalendula oil, occoconut oil, tocopherol (natural vitamin e), opeppermint oil, rosemary antioxidant
4.25 grams
ocertified organic   ccold pressed
Made with love & care in New Zealand
*Please do not use this lip balm if you are allergic to any of the ingredients.
100% Natural & Organic Lip Balms | Yes Organics | NZ Made Lip Balms
---
Share this Product
---
More from this collection